Prenuptial Agreements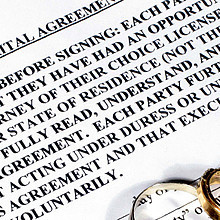 Planning ahead is never a bad idea. It can save you stress, heartache and legal bills in the future. While everyone preparing to get married should always hope for the best, it pays to plan for the worst.
A prenuptial agreement is a contract that a couple can enter into before they get married to spell out rights to property, indicate what is to be considered separate or marital if they separate, address business interests, and provide remedies for a wide range of problems that may arise if they eventually separate.
It offers you peace of mind that if you do separate, there are some things that you won't have to worry about. The Palmé Law Firm in Raleigh is here to help you. Contact our lawyers today.