Child Custody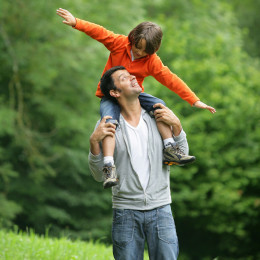 Child custody is one of the toughest issues for couples. Who will the children spend most of their time living with? What do you do about holidays and vacations? Who has the decision making power when it comes to finding a school or choosing a doctor? What happens if one parent needs to move because of a job? These questions can be some of the toughest for parents who are separating.
North Carolina Child Custody
In North Carolina, the courts have jurisdiction over children until they reach the age of 18. That means that custody issues can arise long after a divorce is final. As circumstances change, one parent may find it necessary to change the terms of a custody arrangement.
The Palmé Law Firm can help you find answers to these tough questions. We'll work hard to resolve your custody dispute both in and out of Court. If you need an initial custody order or if you need to modify an existing custody arrangement, we can help. Our attorneys will help you work through custody issues and establish a custodial arrangement that will work for you and for your children.
Interstate and International Child Custody
People have become increasingly mobile and often find it necessary to relocate to another state or even another country because of work or family demands. Interstate custody disputes and even international custody problems are becoming more and more common. Interstate custody problems are even more complex than the already difficult issues faced by parents who both live in North Carolina. An additional set of laws setting out rules on which state can enter a custody order, whether the state you live in can change an existing custody order, and the procedures that you need to follow to enforce an order you already have make it difficult even for experienced attorneys to determine how to unravel interstate custody problems. The Palmé Law Firm, P.A., has represented clients from all over the United States in North Carolina family Courts. Whether you currently live in Virginia, Florida, California, New York, Hawaii or any other state in the U.S.A., if either you or the other parent resided in North Carolina at some point in time, you may need to address your custody issues in a North Carolina court. Contact The Palmé Law Firm to get answers on how to deal with your interstate custody issues.
International custody issues can be the most difficult, expensive and time-consuming problems a parent will face. Trying to get action from a foreign government or even just figuring out how to prevent another parent from fleeing the United States can be monumentally difficult. Call us today to help you find answers to these questions.
Grandparent Custody and Visitation
Parents are not the only people who find themselves struggling with custody problems. Often, grandparents find it necessary to intervene in a custody case to protect their grandchildren and preserve their relationship with their grandchildren. This kind of custody and visitation action does not follow the usual pattern of a custody case and can be easily derailed without the help of an experienced attorney.
If you are a grandparent and the custody dispute between the parents of your grandchildren is interfering with your ability to maintain that special relationship you have with your grandchildren, or you are becoming fearful that one of the parents may limit or cut off your ability to see your grandchildren, contact our lawyers today for a consultation and learn what you need to do to protect that relationship. The lawyers at the Palmé Law Firm are here to help you.